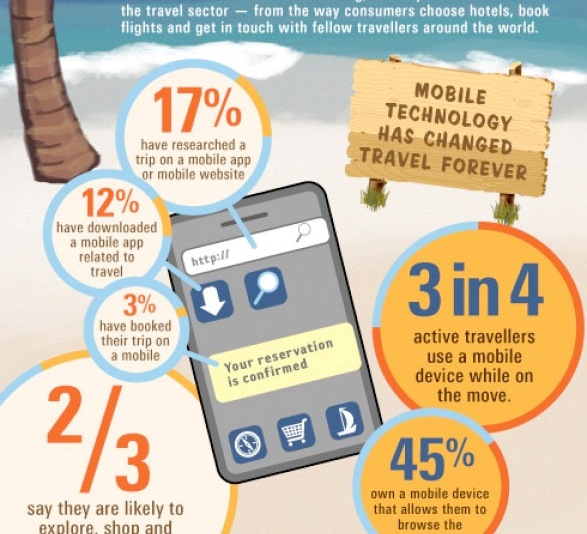 Infographic – How Mobile Technology is Changing the Travel Industry
In 2014, more people will be browsing the web on mobile devices than on desktop computers. This makes a sound mobile strategy critical for all businesses that count on online sales. Mobile is already important to the travel industry, but it looks like it will quickly become one of the most important factors in the future.
Mobile travel searches and apps are popular. Around 17 percent of people use their mobile devices to research travel information, but only around 3 percent book trips. Out of all the apps people download, 12 percent have a travel-related app. As mobile commerce and smartphone penetration increase, online bookings are expected to continue to rise.
Social media is important for most travel sites. According to the infographic, social media is listed as one of the top eight traffic drivers for 78 percent of travel websites. Social media also influences travelers' perceptions of different vacation destinations.
Most travelers use mobile phones and SMS. Three out of every four travelers use mobile devices such as a smartphone while they are traveling. Of those with mobile devices, half receive SMS messages. Knowing that travelers will be using mobile devices and apps while on their trips creates a unique opportunity for both travel companies and local businesses to target this potential consumers.
The importance of mobile for the travel industry is on the rise. According to Google estimates, 8 percent of people will book trips using mobile devices in 2012. This is only the tip of the iceberg when you consider the massive shift in web browsing that is projected to occur over the next few years, making mobile incredibly important to the travel industry.
by Matthew Fields
(via http://socialmediachimps.com/2012/infographic-how-mobile-technology-is-changing-the-travel-industry/)