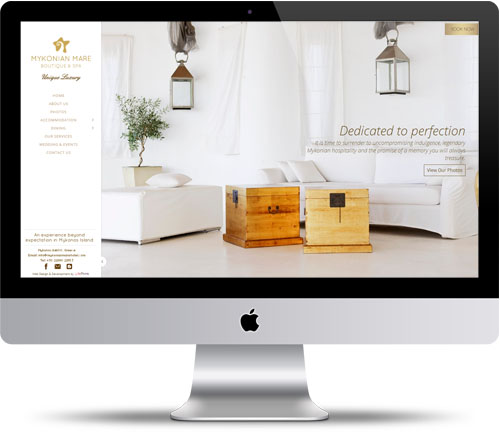 MYKONIAN MARE
-
MYKONOS
ABOUT
:
Redesign Mykonian Mare website and complete digital marketing support.
HIGHLIGHTS:
DESIGN | NAVIGATION | USER INTERFACE | ADWORDS PERFORMANCE
RESULT:
Custom designs, powerful features and aesthetically pleasing UI, deliver a smooth user experience. We digitally rebranded Mykonian Mare and inspired the target audience. The online revenue increased more than 10%, thanks to our overall digital marketing efforts.
-----
-----
-----
Mykonian Mare Luxury Hotel is a recently renovated Boutique & Spa resort in Mykonos.
Our team helped Mykonian Mare Resort to impressively increase online sales this year
Amazing Design
We used cutting edge programming techniques aiming the best possible user experience. Custom designs, powerful features and aesthetically pleasing UI ensure that the website enhances Mystique's storytelling.
Responsive Website
Whether you view Mystique's website on a laptop, mobile or tablet device, it will always look great. With over 25% of the website's usage already coming from mobile and tablet devices we designed and built so that user interface is very simple and fast.
Modern SEO strategy
Through intensive keyword research and a proprietary content prioritization process, we utilized existing content and developed new content. We created a successful on-page optimization strategy for Mystique's website that improved its organic position.
Social Media
Social media is a powerful tool to drive traffic, grow engagement with the fans, and support the online business needs. We focused our social media efforts on cost-effective and results-driven techniques, by monitoring, analyzing, and engaging the audience.